Van der Meer Consulting provides independent and specialized consultancy services in the field of coastal engineering since 2007. This consultancy is based on more than 40 years of experience in both research (16 years at Delft Hydraulics, now
Deltares
) and consultancy (10 years at
Infram
). In January 2014 Van der Meer became full professor Coastal Structures and Ports at
IHE Delft
for one day per week (0.2 fte). His inaugural address on 10 September 2014 is available in
English
(8181 kb) and
Dutch
(8444 kb). The
PowerPoint
is also available. He retired from the university in 2021, working now only for the company and giving guest lectures at IHE Delft.
Main areas of Van der Meer Consulting are:
Full design information was lacking for berm breakwaters. Van der Meer and Sigudarson have written a book, published by World Scientific, on: Design and Construction of Berm Breakwaters. This book can be
downloaded (29 MB)
for free since November 2019. See for more information
www.worldscientific.com
. The book review can be found
here
.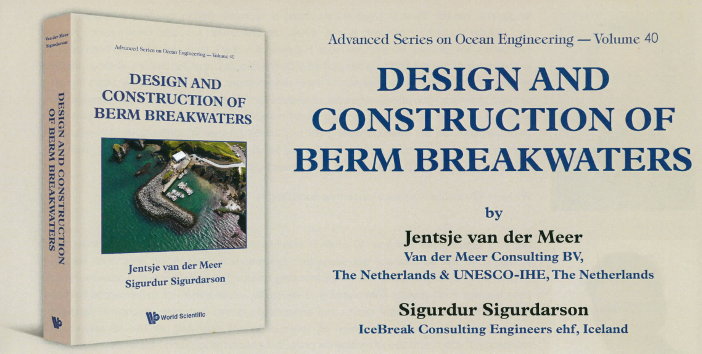 New knowledge should be made available to colleagues in the field: open course ware. For this reason about half of the 200 papers published by Van der Meer as well as accompanying power point presentations are available for
download
. Presentations larger than 10 Mb have been given
separately
.
Lectures
at IHE Delft are also available. Moreover, also
databases
are available.
Key qualifications, special assignments and the full list of papers can be found in the
full cv of Van der Meer
.
Guidance on wave overtopping can be found in the EurOtop Manual (2018), which is
free for download
. Van der Meer was co-author and editor. An Artificial Neural Network was developed in cooperation with the University of Bologna. This ANN that can predict wave overtopping, wave transmission and wave reflection for all kind of coastal structures is
free to use
.
The
wave overtopping simulator
, with copyright by Van der Meer/Infram, is a new development from 2006 to test strength of dikes, levees and embankments by wave overtopping in situ.
Download
the summary report 2007-2008 (2.6 Mb) or
all other papers
. In 2011 a
wave run-up simulator
has been designed, see the
background report
and
papers
. A further development was the
wave impact simulator
. A new wave run-up simulator has been constructed end of 2013 and beginning of 2014. At the FloodRisk Conference, Oxford, Van der Meer was asked to give a
keynote paper
(144 kb) on present and future strategies of coastal flooding.